Happy weekend, everyone! To celebrate, I'm blogging with two of my favorite linkies! :)
To start,
Currently from Farley
!
Listening:
So forgive my guilty pleasures of ABC Family shows...but since the Pretty Little Liars finale, I've had a strong urge to rewatch the show. At first, I just wanted to rewatch the pilot, but then...I couldn't stop. I'm almost done with season 2 now. It's a sickness.
Loving:
I bought the coolest little lunch pack that interlocks, includes a sandwich container, ice pack, two small snack containers, and a large snack container. I love how it all fits into this neat little cube and everything about it makes me want to eat healthier. So I picked out carrots and peppers to snack on with various fruits for dessert. Yummm! For those interested, it's Rubbermaid. I just used it for the first time on Friday since Fridays are the days I have something called Extended Team Planning during my lunch, meaning I need easy access lunch that doesn't require heating.
Thinking:
With this new curriculum, I feel like I'm CONSTANTLY planning. It's so overwhelming... I am just so grateful I have so much support at my school. But yet...
PLL
calls my name...
Wanting:
Dessert - self-explanatory. Grapes for dessert didn't cut it tonight. Whomp whomp. As for short weeks - also self-explanatory, right? It was nice! To have two days off in my particular county.
Needing:
So I have a library book due by 11:59 tonight... I just can't find the will to go out. I look a wreck. So I guess I'm waiting until it's juuuuuust late enough that not many people will be around. I'm certainly not going to glam up for a quick 1 minute in-and-out of my car.
Me-Time:
1. I purchased some fabulous organization resources for my several teacher binders during the sale on TpT. I just need to find the will to do something about it. Or rather, with it. I've got a new school goal of cleaning off my group table before I leave work every day. It makes for a happy me the next morning! I don't have time to clean when I'm on a deadline...
2. See my lunch containers? With that, I am determined to continue to buy my healthy snacks and keep it up. We have this delicious deli 2 minutes from school and I've basically just been relying on that for lunch. It is super cheap, but that adds up, you know?? I'm going to limit that to just once a week now. (I know, that's still ludicrous, but I justify that in that it's still healthy, depending on my choice. Which is usually pretty good!)
3. I've been reading
The Mortal Instruments
series for the past month. It's been so much fun that it's made me miss reading! My only issue is that when I
really
enjoy something, I get caught up in it, and it makes it harder to do real work (see:
PLL
marathon). But... reading for pleasure is important, especially if I'm stressing it for my kids.
Whew! I am such a rambler! Now onto more linky-sanctioned rambles! :)
Doodlebug's Five for Friday
...on Saturday! With my pictures, it almost ends up being "My Life via Instagram!" (Hmmmmm... is that a linky yet?? It should be!)
1. This is a two-parter! Because: this is my new table, replacing my former kidney table! And oh, how I love it!! It gets me so much closer to all my cherubs as they work. :) Definitely a fan of the 'U'. The second part is, look! My efforts to clean off the table every evening is still a new thing for me, so when I walked in the next day, I was so pleasantly surprised! I was thrilled...and thusly, Instagrammed it!
2. O-M-G! SERIOUSLY?! This stuff is heaven in a bottle, seriously! I initially bought it to contribute to my unofficial coffee club amongst some school friends. My school bestie has a coffee pot this year, and she's been brewing coffee...providing the beans AND the creamer, so I felt bad. BUT... I love this stuff so much, I kept it for myself. I'll have to buy a new bottle...
3. Ahhhhhh, can't you practically smell/taste it?! On Friday, I rewarded myself with my first Pumpkin Spice Latte (PSL) of the season from Starbucks! Mmmm, I love fall... I love pumpkin-flavored anything. It should be about time for the pumpkin cheesecake at Olive Garden. Time for a visit! Oh, and I love that song, "Down." Reminds me of college!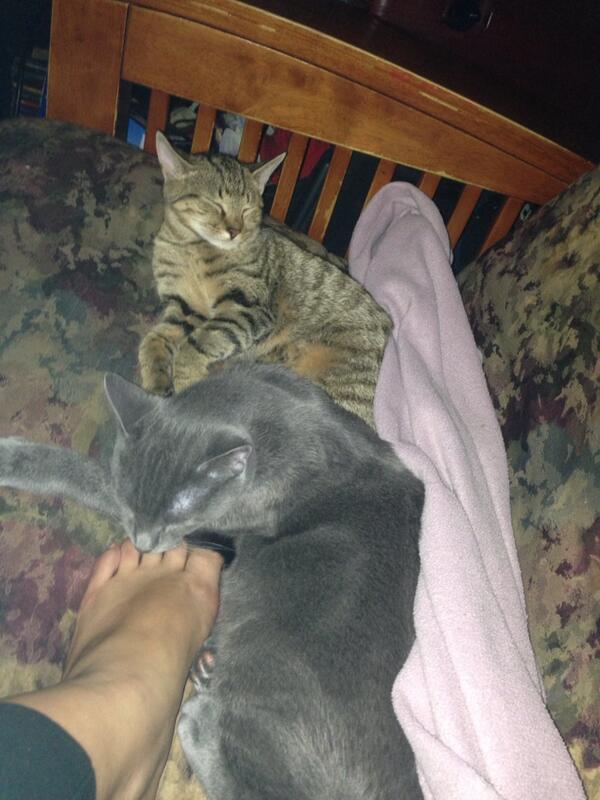 4. Particularly with those two GLORIOUS days off, I got to get in a lot of cudding with my two darlings! They've grown so much since we just got them 4 months ago! :( They're still tiny-ish... I say "ish" because it's so hard to tell when you compare them to my other big guy! He's a big kitty! Makes them look like ants. (Okay, not really....but he is really big.)
5. As for the last thing about my week... I mentioned the ETP on Fridays we have. ETP is this fabulous time every grade level gets once a week for 90 minutes. Teams pick a subject area to focus on, and we look ahead through the week to plan, look over assignments for proficiency to debate scores, and any leftover time we get to use to continue to plan. It's absolutely fabulous! We chose to focus on math. With everything being new, it's so hard to decide...but we definitely made the right choice. It's an excellent chance to look over and discuss these new methods/approaches to teaching math. PLUS, as an even bigger bonus, our fabulous principal sits in on our meetings to support us, and has taken it upon herself to come up with 5 centers to give us every week! WOW! Not only does she find these centers for us, but...SHE PUTS THEM TOGETHER, TOO. I was so excited when she offered, but I had NO idea what delight I would be in for until I got to see her treasures Friday! I should've taken a picture..so for now I'll have a generic placeholder image until I get a snap of hers. She made us both two "Math Power Tower" stations, two Bump! games, and 3 other random games. I can't believe it.
Well, I hope you enjoyed the detailed look into my week! :) It was a nice one, if I do say so myself.
Oh, and as for my new group... well, we had a rough start, but I think we're really turning it around! We have a school-wide behavior incentive that classes can earn as a whole. We earned 4 in our first full week, which was disappointing. So we set a goal for our 3-day week. We listed all the things we could do to achieve that goal and signed it. I listed all of the places we could DEFINITELY earn (Media, Art, etc) because the other ones seem to be hit-or-miss for the upper grades (hallway walking - we just don't seem to be caught walking nicely as much as the younger grades...). So with all of our DEFINITE chances, there was 9 total. Well, my cherubs set the goal for a respectable 6, averaging us at 2 a day. Perfect. We ended up scoring a grand total of 8, I believe! Not shabby, darlings!! :) 8 in three days is absolutely wonderful. I was one proud teacher!